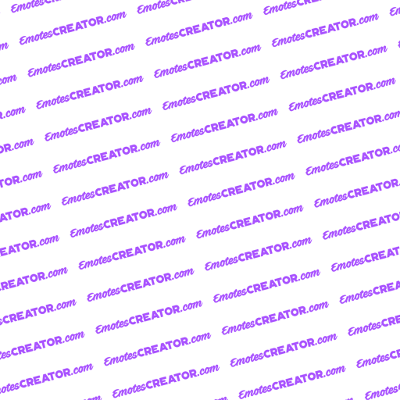 Ops... Something went wrong
An error has occurred that prevents the app from loading.
Reloading the page may fix the issue.
No details available
Emotes Creator - Please wait...
How it works
Having the right emotes on your stream can make a big difference to the experience for your audience and give you a more professional look. That's great for your brand as you build the business, but until now it meant hiring an illustrator to create them for you. An emotes creator like that not only adds expense, but often takes a significant time, leaving you uncertain when you will get your own emotes.
If you don't know anyone experienced as a Twitch emotes creator, you will also need to find someone to do the job for you. That means spending more time on sites like Fiverr, and you can never be really sure about the quality you end up with. But what if it didn't have to be like that? What if you could craft your own unique emotes using professionally illustrated components, and then save and use them in your own streams that same day?
You don't have to wonder, because with our Twitch emotes creator, that is exactly what you can do! You can change everything from the clothes, hair, eyes, mouth, hands and so on. Add glasses, beard or moustache, a hat, headset or a variety of special items and text to create the ultimate, personalized emote for your Twitch channel.
Best of all, our emotes creator is so easy to use, first select skin color, then just move down each tab. Choose the clothing you want, adjust the color, then go to hair, eyes, mouth and so on. All you do is click on the style you like and its added to your emote. Don't like it, just click on another style and its replaced! This is a Twitch emotes creator designed to make your life easy and get you the unique emotes for your stream quickly.
Once you have used every tab on the emotes creator to craft your unique emote, you simply save it, then check out and download it. Its that fast, and you can be using it in your stream as soon as you have finished with the Twitch emotes creator.
Because you can always see exactly what you are getting before you buy, there's no risk, and with every component of our emotes creator using professionally illustrated drawings, they look great every time. No more waiting for someone to deliver, just create your own emotes with the Twitch emotes maker, buy, download and you are ready to go.
Building a Twitch channel is hard work, it takes a lot of your time and energy to grow an audience, and you need the right tools to do it. Why make it more complicated as well? With our easy to use emotes maker, you can create your own custom emotes as you need them in just a few minutes. Get an idea, create the emote, download and use it all in the same day, letting you take control of every aspect of your stream.
Try it right now, make your custom emote and download, the twitch emotes maker is designed to help you every step of the way.