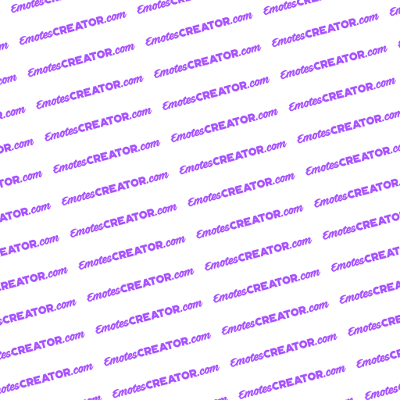 Ops... Something went wrong
An error has occurred that prevents the app from loading.
Reloading the page may fix the issue.
No details available
Emote Animation in Progress, Just a Few Seconds Away…
How it works
Animated Twitch emotes are a long-awaited feature, and Twitch fans and streamers across the world have spent months waiting for this amazing addition that can drastically enhance your performance.
These animations can really help the community to get connected, and it enables everyone on the chat to express their feelings and emotions during the game.
The moment these features came up, we decided to develop our own panels and makers, so now you can use our Emotes creator, Badges maker, or Panel creation tool.
And that's not all!
If you are looking to create your own animated emotes and start using them in your Twitch experience, I definitely recommend checking out our brand new Animated Emote Creator tool!
What Are Animated Emotes?
Animated emotes are a new feature to Twitch, and they have been launched just recently, in June 2021, even though users expected them to launch a lot earlier.
Even though you could use a simple emote or a badge before, animated emotes bring a completely new dimension to your Twitch experience and allow you to express yourself way better.
These emotes are really full of life, and you don't even have to write real messages on your Twitch or Discord chat because you will be able to express yourself perfectly in just one click.
We launched our animated emotes creator, which allows you to create your own custom animated designs.
At the moment, you don't need any new software or feature in order to use your animated emotes, and they can be found without any troubles both in Twitch and Discord chats.
However, with the new custom animated emotes you will probably need to upload each of your own emotes to the platform.
In case someone else likes your emotes, they will not be able to find them by a simple search through their emote box, and they will have to follow you or ask you to download your emotes package.
Your subscribers will be able to see the emotes you are sending to the network, but even if they are partners with us, they will not be able to download them.
This can also tend to create some series of limited animated emotes created by successful Twitch streamers, so I wouldn't be surprised if we started getting official emote packages by popular streamers soon.
What Is Emotes Creator? Animated Emotes Creator Tool!
We have built an online platform that allows you to create animated emotes, badges, and panels that will perfectly fit into your Twitch account and community.
All of these tools and emotes are completely compatible with Twitch, and you can download them in the dimensions that work the best.
You can decide whether you want to use the basic emote or badge packages or be a bit different and start creating your own animated emotes through our brand new tool.
Even though our services are not completely free (every good thing has a price, right?), you really don't need to spend too much money to create your own original emotes or gifs.
The new tool (Animated Emote Tool) is super interactive and intuitive to use. As any other tool on the website, it features a cool design, numerous options, and endless outcomes!
You simply need to build your emote by choosing different elements from a huge list of possibilities. And you'll be surprised what can you end up with. It's free to test – so check it out!
Does Everyone Have Access To Animated Emotes?
Unfortunately, for now, the only people who have access to the animated emotes feature is Twitch partners, and it is not available to regular users yet.
However, the feature will gradually get unlocked during the time, probably until the beginning of September, and everyone will get access to it, including the people who are not streamers and use Twitch to watch others and have fun.
For now, the use of animated emotes is reserved first for successful streamers and creators, but after the feature gets developed a bit more and with the help of our own software, everyone will be able to use it.
However, they are also limited to only 5 animated emotes per stream, so they don't have too much freedom in this field either.
Viewers can use existing gif, images, and badges and upload their own designs to the platform until this top-tier feature gets unlocked for them.
I believe it will really make a change for everyone on the network and that it will make Twitch streaming a lot more interesting.
Affiliates will also start coming up with their own custom emote designs soon, and we will definitely see many creators in this field.
Everyone will be able to create different animations, and they can be paired with existing images and gifs too.
After a while, I believe all the animated emotes you will be able to find through your search box, so you don't really have to feel like you are missing out on anything.
Are There Any Requirements For Animated Emotes?
Just like with the regular emotes, badges, or gifs on Twitch, there are some requirements for your custom animated emotes too.
If you want to make sure your emote is of top-tier quality and that it will look crystal clear to your viewers and subscribers, you will have to follow this short guide released by Twitch.
Animated emotes need to be uploaded and used in the GIF format; otherwise, no one the network will be able to see them – neither you nor your subscribers
The GIF needs to be uploaded in the size that fits the Twitch requirements – the maximum size is 4060×4096 pixels, and it needs to be a square.
The upload should never be bigger than 1 MB
You can add up to 5 animated emotes – this is the rule that may be active at the moment (August 2021), but I believe it will change pretty soon.
How Do I Activate My Twitch Animated Emotes?
If you are a partner or one of the affiliates, you can get access to this feature right now without any problems.
Since this feature was launched in June of 2021, it really hasn't been around for a long period of time, and you don't have too many different emotes available on the market at the moment.
However, if you want to be among the first people who will start using this feature, then you can definitely find some amazing animations and start using them.
The best way to start using it is through the special Twitch tool – Easy Animate.
When using this tool, you will be able to choose the already existing emotes from your archive and add some new animations to them so you can bring them to life.
Even though the animations you can access here are not really special, and they can be found easily through your search box, they will definitely work just fine until you check and see how our animated emote maker really works.
The basic animations you will have access to are Spin, Slide in and out, Shake, Rave, Roll, and Spin, and they will work just fine to create a decent gif.
Your viewers will also be able to see them and recreate them easily through this tool, and you can always add or create some different animations that will help you be a bit more interesting.
Overall, this feature and tool will be able to work just fine but you'll definitely get bored with all the limits it has.
Therefore, gather up your ideas and use the full potential of our emote maker tool!
You create your own original emote package and brand yourself on the Twitch network easily – you just need to get a little bit creative.
This can be a great tool for people who are just trying to build a name for themselves on Twitch, and I believe everyone should consider creating their own animated emotes at some point.
Conclusion
As you can see, Twitch is really trying to reinvent itself by adding different features all the time and presenting them in a unique way to their viewers and subscribers.
Animated emotes were launched just a month ago, but it seems like everyone wants to get their own one, and they already have ideas for an original emote package.
I believe that these emotes will really bring a new life to the platform and make the whole streaming process a lot more interesting both to streamers and their viewers.
Overall it is a really fun addition that will help the people from one specific community connect easily and allow streamers to create their own original identity that will set them apart from others.
And we are there to help as much as we can with the brand new animated emoji tool!