Showcase Your Style with Our Discord Emoji Maker
The right Discord emojis offer a level of expression that's beyond words alone. That's why at EmotesCreator, we offer the perfect Discord emoji pack for every personality. Each Discord emote is crafted to stand out while elevating every interaction. As you seek out the perfect emoji for Discord, our collection has you covered. Crafted for quality and authenticity, these stunning creations go beyond any Discord emoji you've seen before. We invite you to take a look today!
What Are Emojis for Discord?
Whether you're new to the platform or are just diving into the full range of features, understanding Discord server emojis is key. Simply put, emojis for Discord channels are all about expression. Whether woven into a message, status, response, or beyond, your emoji Discord usage is all about enhanced communication where words just don't cut it.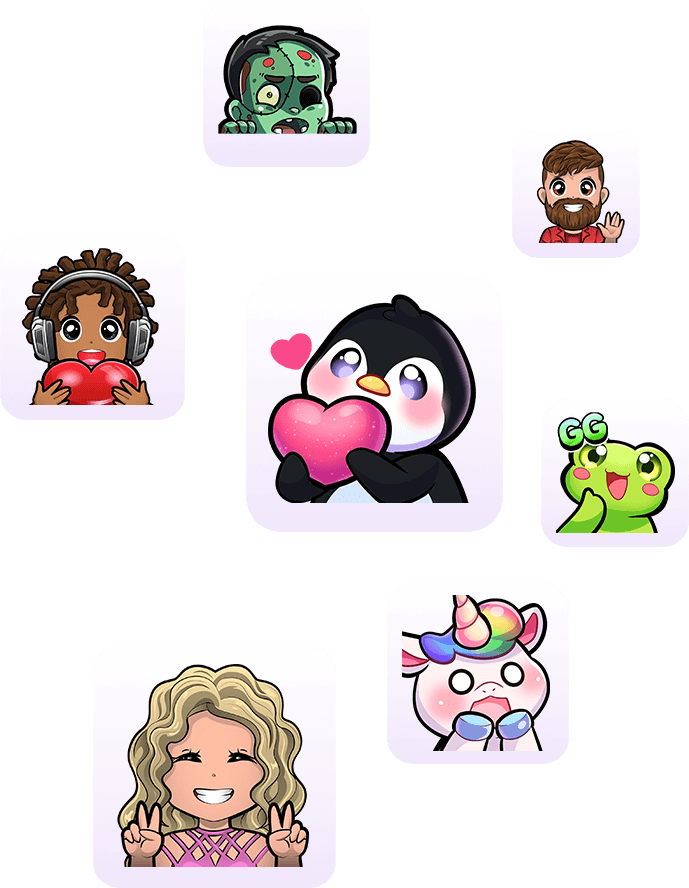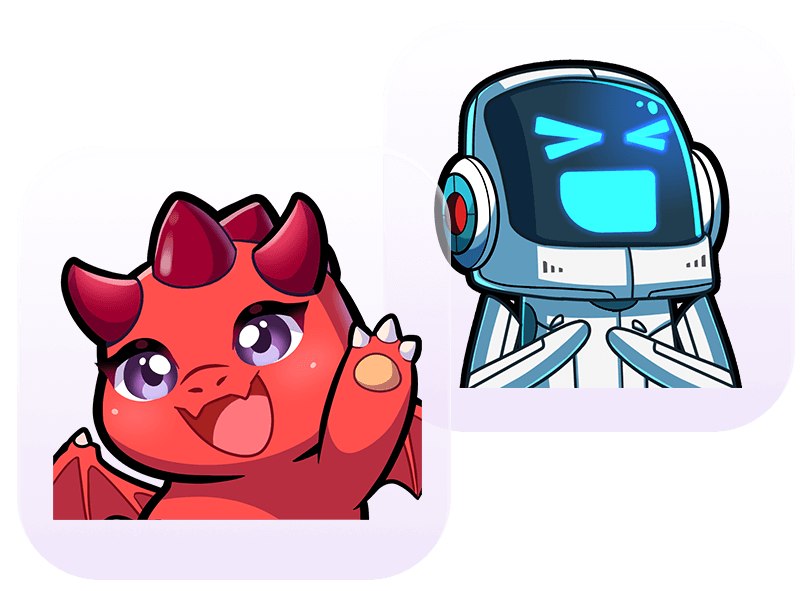 Emojis on Discord: What to Expect
While some Discord emojis are transparent with a clear background, you may also stumble upon a Discord emoji GIF here and there. That's why we've created a Discord emojis pack for every taste. As a result, you can find the best Discord emotes for your unique preferences. Here's what you can expect.
Emojis for Discord Channels: Don't just respond with words. Leave a lasting impression on your community by going above and beyond.
Head-Turning Details: Just one animated Discord emoji can spark meaningful engagement and responses from the people who matter most.
Countless Options: Think of EmotesCreator as your top emoji Discord server for the full-spectrum of high-quality options at your fingertips.
Get Discord Emotes Online: With fast downloads and a seamless user experience, we make finding and adding the best Discord emojis easier than ever before.
Benefits of a Robust Discord Emoji Server
It's time to take your Discord presence further than what a run-of-the-mill Discord emotes list can provide. That's why newcomers and power users alike trust EmotesCreator. Vetted for originality and trusted for quality, our ever-expanding collection is the go-to destination for all of your emoji Discord needs regardless of what you're looking for.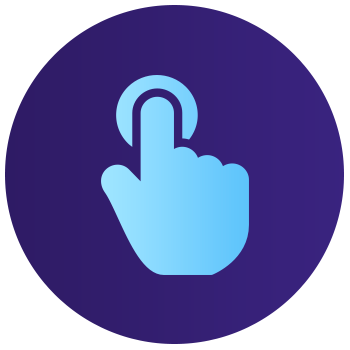 Improve Your Clarity
Well-placed Discord emojis offer considerably greater clarity and communicability than text-based messages. Don't leave any room for misinterpretation!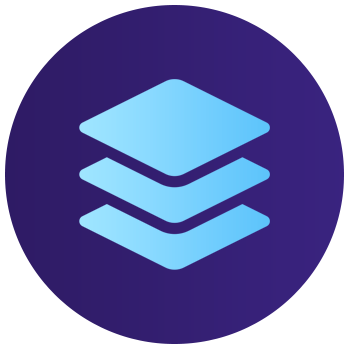 Make Your Voice Heard
Whether you're contributing to the conversation or getting the word out, the right Discord emoji ensures a punchier and more prominent delivery.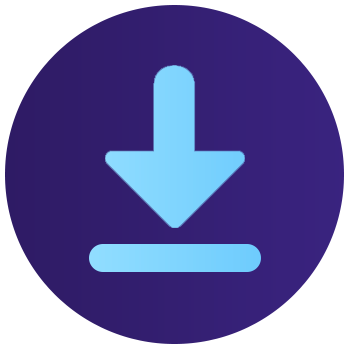 Showcase Your Authenticity
This is all about freely expressing yourself. With EmotesCreator, you'll always be able to find the perfect Discord emotes for your unique style and taste.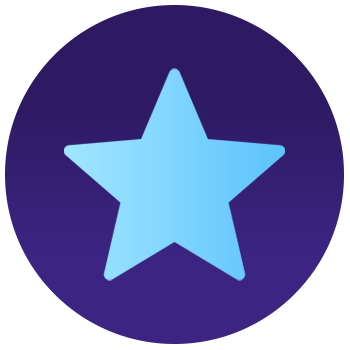 Send Servers Soaring
Our Discord server emojis transform boring into extraordinary by adding an unmistakable level of pizzazz that users from all walks of life will appreciate.
What Streamers Say About Us
Great website

"Great website, easy to use, make emotes that are authentic and look professional for a fair price. Customer service is excellent and very kind. A+++"

- Justin T.

Awesome and AFFORDABLE

"Great formatting and easy download. Emotes came out great and was able to upload them instantly."

- Andrey G.

Easy to make emotes

"Easy to make emotes, after purchase they are ready for download and just the way you made them... Emotes came out perfect"

- Dejon T.

Such a good and easy to use site

"Such a good and easy to use site. It gives you lots of freedom to design your emotes your way! I loved every second I was making my emotes!"

- Asumeira N

Absolutely loved this site and how easy…

"Absolutely loved this site and how easy it was to use and purchase! Will definitely use again in the future."

- Phyxius

Nice!

"Easy to customize and for a great price!"

- Diztroyah

Easy and Fast

"Easy and fast. I love the options and not hard at all to download. Love it!"

- Ayo L.

Thank youu

"I haven't had an emote in a while, I love how I made her look similar to me. Thank you for giving me the chance to create my own sub emote!"

- AngeliicCx
Should You Try Using Emojis for Discord?
Of course! These seemingly simple inclusions go a long way in terms of tone, clarity, and engagement. Not to mention, each Discord emote can help amplify the words that accompany it. In turn, you can forge a deeper connection with your community.
What's Included in a Discord Emoji Pack?
Within these packs, you can expect a wide range of unique emojis for Discord across a variety of artistic styles and themes. These download-ready Discord emotes include the expressions you need to captivate any audience or community!
Turn Up Your Emoji Discord Game
With EmotesCreator, you can tap into the best Discord emotes to make powerful and lasting impressions at every turn. Rest assured, these quality creations are poised to pop with a level of detail and personality that gets noticed. As you explore our Discord emotes list, you can start to envision new possibilities for your Discord presence!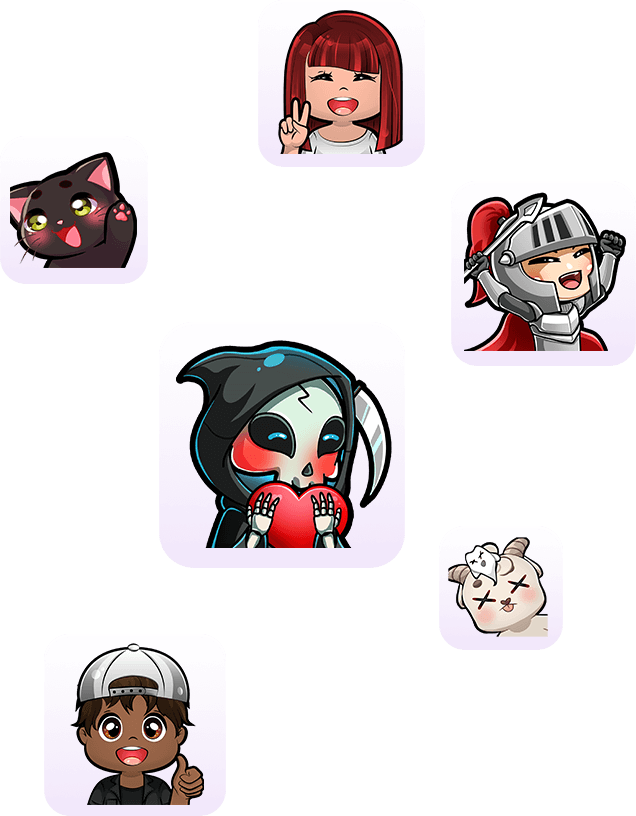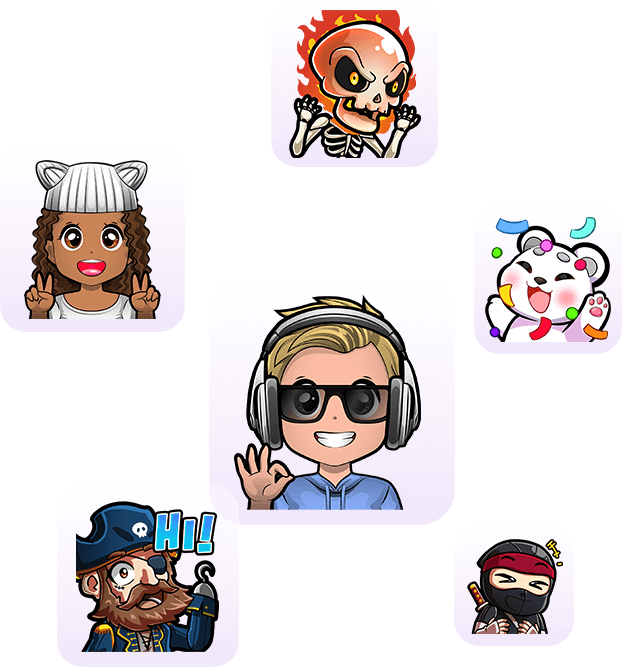 What is the Best Discord Emoji Maker?
If you're looking to make Discord emoji creations that exude quality, align with your personal branding, and elevate your Discord presence, EmotesCreator is the clear choice. That's all with more options than competing tools.
Why Create Your Own Discord Emojis?
There are two main options: either use a custom emoji maker or hire a professional. Instead of the high cost and uncertainty that comes with hiring a designer, our emoji maker for Discord offers surefire results at a fraction of the cost.
Try the Best Discord Emoji Maker Today
When you're ready, EmotesCreator is here to help you make custom Discord emojis that get noticed! As you explore our wide range of easy-to-use tools, the benefits will become clear. Say hello to more impactful messages and responses. It all starts here!