Emotes are a language in and of themselves. They are a vital part of the communication within the Twitch community, helping viewers interact with streamers on the other side of a live stream. The simple images are usually derived from trends within industries, each expressing a very specific message or emotion. Many users comment that emotes can sum up what they want to say in a way words cannot. Global emotes are available to everyone on the internet and are used across the board, therefore, their meaning evolves rapidly. Custom emotes, however, are exclusively available on a specific channel and are only unlocked once a viewer subscribes to content. Keep reading to learn more about twitch emotes:
Why do you need custom emotes?
Twitch streamers have started creating many of their own emotes as it gives a personal touch to their channel. As those emotes can only be accessed by subscribing, it is a great way for viewers to show support to their favorite content creators. Having an array of personalized emotes portrays that a channel is professional and there to stay, however, obtaining a selection of emotes can be tricky. Some streamers leave their designs in the hands of artists. Although this may seem like the most painless option it can become an expensive investment into a channel that could be created for way less with the same quality. Illustrators sadly tend to have a slow turnaround and are unlikely to create emotes exactly as clients have pictured them.
For these reasons, many entertainers on Twitch are using an emotes maker to save themselves the hassle and cost of organizing it out of the house. That way they can ensure all of their resources are focused on what they do best; making content.
How to create custom Twitch Emotes
Many people have been left wondering how to create Twitch emotes if they have not studied animation or illustration and we're here to tell you it's never been easier. Simply follow our step-by-step process to create an emote that looks just like you or something completely out of the box.
Choose between the brilliant Avatar and Chibi styles of design to set the tone of your emote

Add one layer at a time, building the basics like eye color and hairstyle.

Choose from a wide range of elements and accessories to customize your creation, from a gaming headset to the most common Twitch phrases

Save your emote and add it to the cart, then go back and create your full set or proceed to checkout and you are ready to download instantly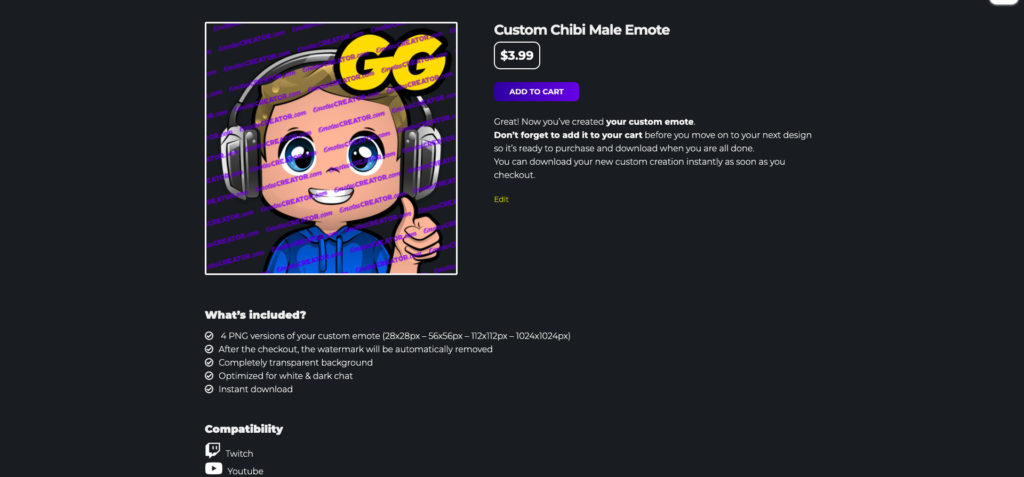 A couple of guidelines:
Some rules have been set out on how to create your own emotes as they need to be approved by Twitch before uploading. They must be available in three dimensions: 28 x 28, 56 x 56, and 112 x 112px. Only transparent backgrounds are allowed, saved in PNG format under 25kb file size, otherwise, the site will reject them. Like most places on the internet, no copyrighted images can be used and we suggest sticking to the guidelines as accounts in good standing are usually approved faster. Don't feel overwhelmed, these rules are another reason more people are using the custom emote makers which facilitate your stress-free creation within the bounds set out by Twitch. No worries, we got you covered, all the emotes created with the Emotes Creator Tool are in the correct sizes, format and respect the guidelines.
What are you waiting for, click here and start creating your custom Twitch emotes!